Multihog® CV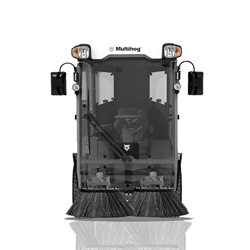 LENGTH: 3800 - 4600 MM (149 - 181 IN)
WIDTH: 1200 - 1600 MM (47 - 63 IN)
HEIGHT: 1995 MM (79 IN)
ENGINE: 75 HP, STAGE V EMISSIONS
• Compact, multipurpose sweeper with capacity to work 365 days per year, making the most of tight equipment budgets.
• Dedicated all-terrain vehicle with the option to change front brushes to other attachments (snow plow /mower/etc).
• Boats one of the cleanest engines on the market with environmentally friendly stave V emissions.
• Available in either 3500kg (7716 lb) or 4000 kg (8818 lb) GVW models, both designed with heavy focus on operator comfort and safety.
• All sweeper functions are controllled from a floating multifunctional armrest, which is ergonomic and moves with the operator.
• Each brush is independently controlledvia minuature joystick; an third brush may be added if required.
• Built-in heavy-duty cooling for working in the hot climates and features a 200 litre (53 US gal) water tank for optimal dust suppression.
• Full independent swing and damper suspension on each wheel creates a superbly comfortable working environment

Multi Purpose Tractors | Featuring: Multihog
Click here to visit the Multihog website