Multihog® CL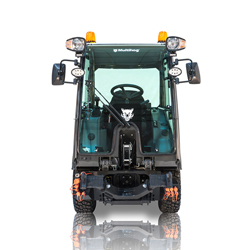 LENGTH: 3490 - 3680 MM (137 - 145 IN)
WIDTH: 1150 - 1560 MM (45 - 62 IN)
HEIGHT: 2000 - 2100 MM (79 - 83 IN)
ENGINE: KOHLER 55 - 75 HP, TIER 4 FINAL EMISSIONS
• Multipurpose tractor ideal for weed control, sweeping and pressure washing.
• 55 - 75 hp Kohler engine, meeting tier 4 final emissionsstandards without requiring a particulate filter.
• Ergonomically designed armrest with fully proportion almininum joystick for hydraulic control of attachments.
• Spring and damper suspension for smooth drive and ultimate operator comfort.
• Articulated body with compact width for easyoperation on sidewalks and in narrow areas.
• EU type-approved tractor with gross vehicleweight of 3500 - 4000 kg (7716 - 8818 lb).

Multi Purpose Tractors | Featuring: Multihog
Click here to visit the Multihog website